Interview conducted by Melissa L. Michaels, Capiche Contributor/Strategic Partner, Michaels & Michaels Creative, LLC
We are delighted to introduce Capiche Conversations, a new series of interviews featuring Capiche clients. Our first entry spotlights Hiram Towle, general manager of Mt. Ashland Ski Area, whose board Chris Cook has served on for nine years. Hiram's passion for snow, skiing, and mountainscapes started when he was a toddler and sparked his move from Maine to Oregon in 2014, when he was appointed Mt. Ashland's GM in 2014. Hiram has overseen the radical transformation of a ski area on the brink of economic collapse to a flourishing and robust nonprofit company. Ski Area Management Magazine named Mt. Ashland one of the winners in their annual Marketing Winners and Losers Contest for his trailblazing Hiram on the Hill reports and Dr. Snowe etiquette videos. Below, Hiram discusses the impact of working with Capiche on rebranding, leadership transition, strategic planning, and organizational development.
---
Q: If you reflect on the story of your life, how did it prepare you for your position as general manager of the Mt. Ashland Ski Area?
A: It all started at the age of two, growing up on a small community ski hill called Crotched Mountain in New Hampshire. My father was a ski patroller, and the mountain was our second home. The only life I know is one where when there is snow on the ground, we ski. This developed my love of the sport and made it a dream of mine to one day work at a ski area.
In 1988, I graduated high school and immediately started working at a high-tech company. I worked my way up over 14 years and was in just about every department before joining senior management. It was there that I learned all about business—from the loading dock to an office with a nice desk. I have no college degree, just 14 years of on-the-job experience. In 2002, the business dried up in New England, and our offices were going to move to Buffalo, New York. Although Buffalo gets lots of snow, with no mountains in sight, Jeannine and I made a conscious choice to move to one of the places where we loved to play to start our next careers.
That's when I started a job at a large destination ski resort in Maine called Sunday River. They are one of the largest ski areas on the East Coast, getting around half a million skier visits a year, and they have a robust summer operation as well. I started in Mountain Operations. After nearly 13 years there, I moved over to the hotel and restaurant side of the business to broaden my knowledge of overall resort operations.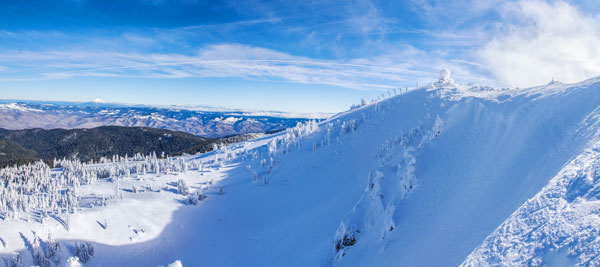 Q: What do you love most about Mt. Ashland?
A: Apart from the incredible terrain and great skiing and riding, I would say it is all about the vibe. The mountain just feels like home for so many people, and it shows. You may never see the folks you've come to know at the mountain in real life, but when you are here, suddenly you are like best friends. We have always had an incredible team of employees who exude what we call "local mountain fun." We hear from so many people how amazing our staff is at making people feel welcome and appreciated. Before COVID, it was all high fives and smiles. We are still a very tight family—we just smile from behind our masks at more than six feet away.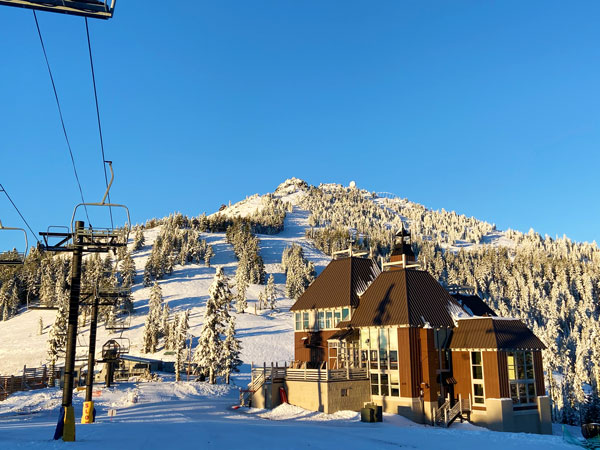 Q: What makes Mt. Ashland special when compared with other popular skiing destinations—including Maine, where you and your family moved from when you were hired?
A: I came to Mt. Ashland despite the huge challenges it was facing at the time because I believe little community ski areas like ours are the most important on the planet. We provide this restorative, healthy activity to those who could otherwise not take part due to the many barriers in the sport. It is well-known that this sport tends to favor the more affluent portion of society. Not at Mt. Ashland.
Because we are a nonprofit, we are able to keep our offerings affordable—far lower than the national average for a day ticket, which now exceeds $130. We offer scholarships, low-cost learn-to-ski-and-ride programs, and free transportation on weekends to those who need it. We break down those barriers to entry and welcome people from all walks of life to enjoy this special sport.
At Mt. Ashland, we get back to the roots of skiing with a focus on the outdoor experience, not fine dining, water parks, hotels, and ski-through coffee shops. At no other time is that more apparent than this year, when we have no indoor amenities available other than checking in for lessons and rentals. Everything is taking place outdoors. Even with guests having to use their cars as their "lodge," nobody seems to care. At the end of the day, we are in the uphill transportation business, and folks just want that unmatched feeling of sliding downhill on snow.
Q: Tell us about Dr. Snowe and your Hiram on the Hill reports.
A: It all started the day Facebook released its live feature. We have always been unique in the ski industry in that we are committed to truth in advertising. Well, what is more truthful than going live? You cannot sugar-coat things when it is raining if people are seeing you get wet in real-time. We all thought it would just be a flash in the pan, but to this day, I have people tell me they came up because they saw my morning update. We were actually named in Ski Area Management Magazine as one of the marketing "Winners" for our live updates in their annual Marketing Winners and Losers Contest.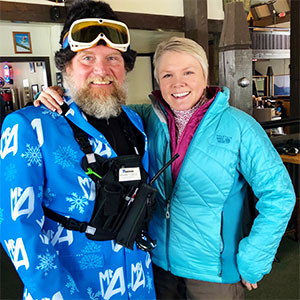 As for Dr. Snowe, that was another organic creation. I wanted to do an educational series that talked about proper mountain etiquette and covered problem behaviors in a humorous way. It started with a piece called "Powder Etiquette," where the good Doctor describes how to preserve the most amount of snow on a powder day by taking "tiny turns" and not chewing up the whole trail going edge to edge on your first run. We added parking etiquette and others until Dr. Snowe became a stand-in for the Hiram on the Hill series.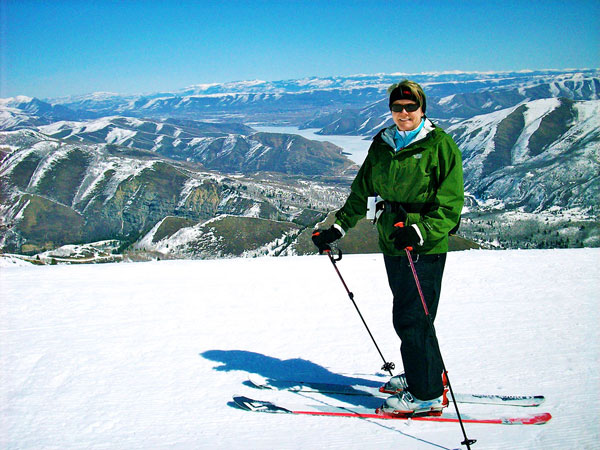 Q: You're a Telemark skier—a passion Chris Cook shares as well. What sets Telemark skiing apart, and why are you drawn to it?
A: I started Tele skiing in 1986 as a vehicle to get into the backcountry, seek out fresh powder, and "earn my turns." After that, I tele'd exclusively for 20 years. In 2006, I locked down my heels again. I was just getting a bit older and wanted to be able to be out all day. Tele was too taxing on my body to do full-time. Now I try and split my time 50/50 and throw in a little snowboarding, snowblading, and snowskating for good measure. I still love the grace and beauty of the turn, and it just feels different getting low and more in touch with the snow. It also makes the mountain feel bigger as you really have to work the skis harder to do the same runs that might seem easy on alpine skis.
Q: Chris fondly remembers being part of your hiring committee. What are some of the milestones you've witnessed at Mt. Ashland since becoming GM in 2014? What changes are you most proud of?
A: I am most proud of being part of taking the mountain from the brink of economic disaster to a financially strong nonprofit company. When I arrived, we were literally counting the dollars until we would have to close following a year when the mountain never opened due to a lack of snow. My first year was no picnic, with a total snowfall total of just 86″ against an average of 250″ annually and a meager 38 days of operation, when a typical season is closer to 90. We managed to squeak by and get into a few good years where we ran lean and put money in the bank. We now have more than a million dollars set aside that serves as a rainy day fund. We also generate enough operating dollars—even in less-than-average years—which we use to chip away at years of deferred maintenance. At the same time, through support from our tremendous community, we were able to invest millions of dollars in capital projects like a $2-million lodge renovation in 2017 that completely changed the experience for our guests.
Q: How did Capiche help Mt. Ashland with the transition to new leadership, which included both you and Director of Marketing & Development Michael Stringer?
A: We are so fortunate to have Chris's expertise on the board. She has a way of getting to the bottom of what makes an organization its very best. Her leadership on the board helped forge a very clear path to success, and she coached both Michael and me through some very difficult times. She took on so much during the transition to be sure there would be a soft landing for me as I dug into the operational and financial changes needed to revive our little ski area.
Q: One of the first projects you embarked on was rebranding. You recently told Chris, "I think we got our Nike swoosh." What did you mean by that statement?

A: All iconic brands have an image that is unmistakable even from a distance. The McDonald's M or the Chevrolet bowtie. Mt. Ashland just had the words "Mt. Ashland." Now we have our unmistakable MtA image, and you can see it all around the Valley and beyond. From vehicles to water bottles, the new logo stands out and screams "Mt. Ashland" and can stand alone by itself enough to grace the front of the lodge without actually saying the name.
Q: Can you share more details about the rebranding process?
A: Thanks to Chris's work on our DNA statement—an exercise in really assessing what makes Mt. Ashland Mt. Ashland at its very core—we were able to share a very clear vision with our partners at Lithia Motors to come up with a new brand, a brand that would transport us into the next 50 years and leave a challenging and often controversial history behind. Chris was right there by our side through the whole process as we created a new graphic identity and redesigned the website with the support of our partners at Lithia. They really knocked it out of the park, providing our little local ski area with Madison Avenue results!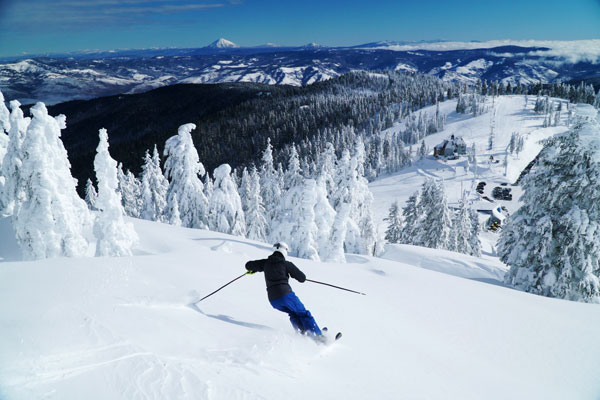 Q: How does Mt. Ashland navigate the challenges of working with the Forest Service and other governmental entities?
A: We have a wonderful relationship with the US Forest Service. We act as partners under our special-use permit, which authorizes our use of the land the ski area occupies. There are certainly challenges, but many of them exist for a very good reason. For example, the NEPA (National Environmental Policy Act) process, which needs to take place whenever we want to do a project that impacts the land. The process is slow and sometimes cumbersome, but it ensures we are being good stewards of the land and minimizing and offsetting any potential impacts. The Forest Service is also the authority that ensures our lifts are safe and pass a yearly inspection, and they provide oversight for our explosives program so we can safely mitigate avalanche danger on steeper terrain like the Bowl.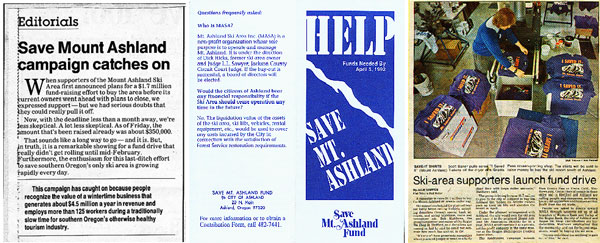 Q: The Mt. Ashland Ski Area is owned and operated by the Mt. Ashland Association, a 501(c)3 nonprofit. What's the story behind the Save Mt. Ashland campaign that led to the creation of this nonprofit in 1992?
A: The story is quite long, but the Reader's Digest version is that Harbor Properties, a Seattle-based company that owned Steven's Pass ski area in Washington, planned to sell Mt. Ashland and move the lifts up to Steven's Pass after a few bad winters. In 1992, the community rallied around the mountain, raising more than $2 million to purchase the ski area to save it. The 501(c)(3) Mt. Ashland Association was formed and put in charge of overseeing the operation of the ski area. We have remained a nonprofit corporation serving the residents of the Rogue Valley since that time.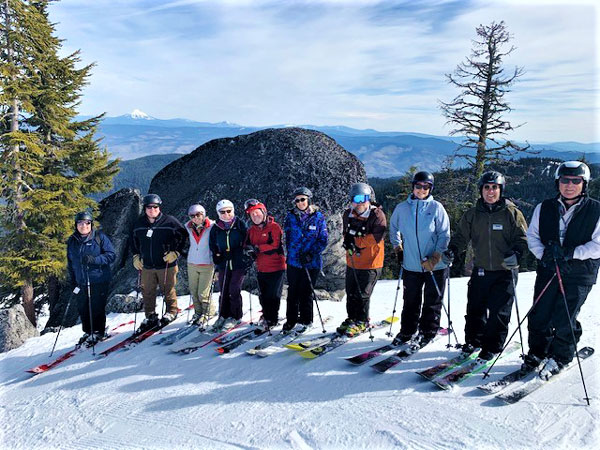 Q: Chris has served on the Mt. Ashland Association Board for nine years, including her current post as secretary. She recently spearheaded the first true strategic planning effort ever undertaken by the board, which took place entirely via Zoom. What was that process like, and how did Chris help transform any skepticism toward strategic planning into ardent support?
A: We are all "Zoomed out," so having a solid agenda with well-defined goals was important. After the first meeting, it was clear a change in course was needed. The Capiche team, which included John Lamy, was able to quickly adapt and move in a new direction that invigorated and engaged the board. When the sessions were over, we had a crystal-clear direction for the board, my staff, and me. We forged a five-year strategic plan outlining capital expenditures and significant operational improvements with unanimous support. We defined the committees more clearly and set goals for each. The leadership from John and Chris really made a difference and kept us from spinning our wheels. They created a space that allowed for rousing conversations and welcomed contrasting views, which resulted in every board member feeling like they had been heard and mattered. I look forward to the tremendous work that will get done with this new understanding of what is essential for our success. I have sat on a number of boards and have seen a dozen ways to approach getting actionable results during strategic planning sessions, and unfortunately, many plans still sit on the shelf. I believe what was created here will easily guide us, is realistic, and will yield the result we all want—to carry Mt. Ashland into the future stronger and more capable so we can do the good work we do for generations to come.

SERVICES CAPICHE HAS PROVIDED FOR MT. ASHLAND
Strategic planning & leadership transition
Surveys & research
Marketing & PR consulting
Board member, secretary, and chair of multiple committees
Rebranding
Community relations
Organizational development
Zoom meeting facilitation
COVID pivoting
Q: Can you talk about the purpose and impact of the newly formed Governance Committee, which Chris chairs?
A: One of the more important roles of a board is to govern the organization and the board itself. It is the "not-so-fun" part of being on a board as it is more on the business side of things versus the fun part of getting things done on the ground to support the mission. We have always had a very strong group of working committees that get a ton of tangible work done those we serve can see, which is what drives most board members. The Governance Committee, on the other hand, is charged with more boring stuff like reviewing bylaws, procedures, and being sure we are continuing to operate ethically and to the letter of the law. It takes someone with an eye for detail and a passion for getting it right. Chris is the perfect person for the job at hand, and with all of the committee's hard work, the Mt. Ashland Association is now running like a well-oiled machine.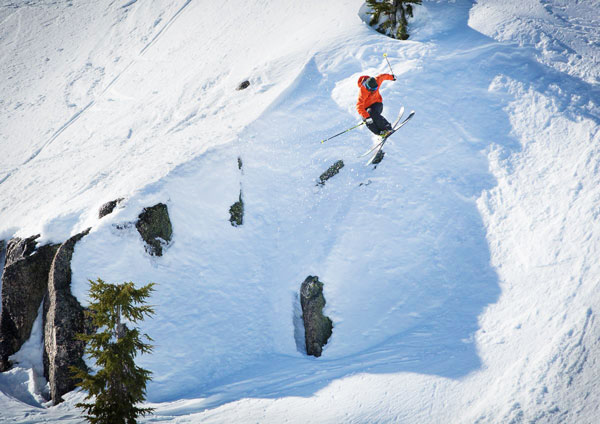 Q: Chris previously chaired the Community Outreach Committee, which conducted three community surveys to discover which direction Mt. Ashland should be going, what people like and don't like, and what they want more of. Sent to all season passholders and the community at large, the first survey occurred around the time you were hired. How did that survey help inform the tack you took in the ensuing years? What have the subsequent surveys revealed?
A: Since we are a community-focused ski area, what matters most is what the community perceives us to be now and what they would like us to be in the future. Although we receive a lot of direct feedback and anecdotally know quite a bit about our shortcomings and strengths, the community surveys created a detailed look at the hot topics that were on the community's mind. The results, which Chris helped us effectively boil down and report out, gave us a tool to make important decisions such as where we should focus our capital expenditures and how we would craft our new voice through our messaging and branding.
Q: Mt. Ashland achieved STOKE certification in 2015. What does this certification mean, and how does your commitment to sustainability play out in practice?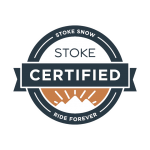 A: STOKE is not just about environmental sustainability like some third-party certification programs. Of course, environmental impacts are a huge part of the program, but they also look at impacts pertaining to business sustainability; social and economic ramifications; and how we embrace and affect culture and heritage in our area. The benefits have been many, including a reduced cost of operation, more engaged staff, and more loyal customer base fully supportive of our efforts to be leaders in all areas of sustainability.
Q: You serve as chair of the Travel Ashland Advisory Committee under the Ashland Chamber of Commerce. What does that role entail?
A: The Travel Ashland Advisory Committee oversees the activities of Travel Ashland, the destination marketing organization for the city. The committee has representatives from retail, restaurants, hoteliers, outdoor recreation businesses, B&Bs, and inns. We help support Chamber staff with developing content for the Travel Ashland website, reviewing marketing plans, and generally offering guidance and feedback from the business community. We form ad hoc committees to address specific needs such as a recently formed group of outdoor recreation leaders that helped gather a list of local outdoor rec assets and worked on storytelling ideas and media content for the website. A number of our members are also on a committee that's currently working on efforts to rebrand Ashland to highlight all of our wonderful offerings such as wine, food, and outdoor recreation. Our visitor numbers are slowly catching up with traditional theatergoers.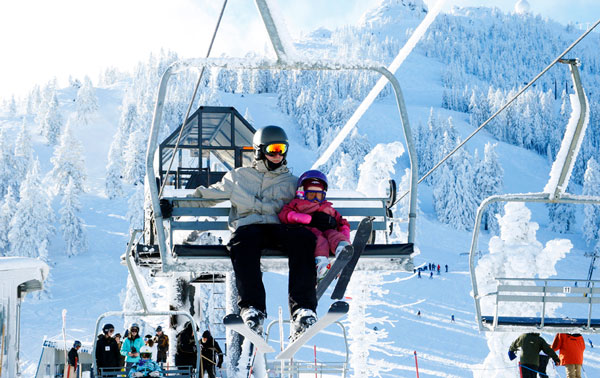 Q: How have community members and local businesses come together to support the mountain over the years? What are some of the ways in which folks can support the mountain today?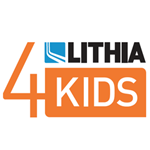 A: We have tremendous support from our community through donations of cash and in-kind donations as well as business sponsorships. Our largest supporter, Lithia Motors, supports our ski school through their Lithia4Kids Program and provides in-kind services like the rebranding efforts we talked about earlier. We are always so blessed by the generosity of our community as they support us through donations, business sponsorships, and volunteering their time—as Chris does on our board of directors. The best way to get in touch with all the opportunities to help is through our website, where you can sign up to volunteer, donate, or even leave a lasting impact by including us in your will or trust. I find the best way to support us is to purchase your tickets and season passes and get up here for some Local Mountain Fun!
Q: Thank you for your time, Hiram. See you on the mountain!
A: Thank you for the opportunity, and I will definitely be up here when you come.
I am most proud of being part of taking the mountain from the brink of economic disaster to a financially strong nonprofit company. —Hiram Towle Click To Tweet