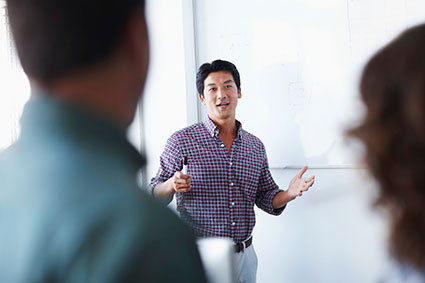 If you've been following this blog and other science of happiness research, you already know achieving employee satisfaction is key to creating a sustainable and productive workforce.
It's simple, really. More satisfied employees = happier employees = more engaged employees = more productive employees = a mutually beneficial equation for everyone.
A 2012 Gallup meta-analysis of 263 research studies conducted across nearly 200 companies revealed that highly engaged employees translates into significantly more dollar signs—22 percent more, roughly. The Q12® report, titled "Relationship Between Engagement at Work and Organizational Outcomes," found a 0.42 correlation between engagement and performance. Organizations whose employees ranked in the top half for employee engagement were almost twice as successful, and those in the 99th percentile showed quadruple the success rate over those scoring in the 1st percentile.
So how do you cultivate that employee engagement? Tony Schwartz and Christine Porath explore this question in "The Power of Meeting Your Employees' Needs" at the HBR Blog.
According to the article, a 2013 Harvard Business Review survey of 19,000 people suggests meeting the following four needs is the secret:

1) Renewal (physical). Employees are encouraged to take breaks to stretch, exercise, get fresh air or even power-nap. They return feeling rejuvenated and energized, ready to barrel through the next big task.
2) Value (emotional). When staff members feel valued by their coworkers and especially their supervisors, they are more motivated. We explore this formula extensively in our blog posts on The 5 Languages of Appreciation in the Workplace: Empowering Organizations by Encouraging People (Part 1 and Part 2).
3) Focus (mental). Employees who are bombarded with distractions, competing deadlines and inane meetings lose focus and clarity about their priorities. Organizations that give workers greater control over their own schedules so they can carve out focus time for intensive projects will see a corresponding rise in productivity.
4) Purpose (spiritual). Feeling part of something larger and more important than one's self is crucial to employee happiness. Tony Hsiesh testifies to the significance of this factor to Zappos' success in his book Delivering Happiness: A Path to Passion, Profits, and Purpose (see the Happiness Frameworks sidebar, graphics courtesy of the Delivering Happiness website).
The more needs met, the more exponentially engaged employees will be. Satisfy one need, and employees will be 30 percent more focused, 50 percent more engaged, and 63 percent more likely to stay with the company. Satisfying all four results in employees who are 125 percent more engaged than those whose needs are not being met.
The following graph (courtesy of HBR.org) illustrates the remarkable correlation between satisfaction of these four variables and performance.

Daniel Pink's research backs up these findings. According to Drive: The Surprising Truth About What Motivates Us, people need these three things to feel motivated: 1) autonomy, 2) sense of purpose and 2) ability to master their endeavor.
Pink discovered that employee drive goes far deeper than dollars. Offering rewards like monetary bonuses actually decreases motivation in the long run because it depletes the intrinsic motivation derived from the work itself. The carrot wears out quickly, and it becomes the goal of the work rather than the actual process. Businesses would do better to ensure the work itself is gratifying.
Organizations that invest in cultivating employee happiness and engagement by meeting their primary needs wind up healthier, happier and ultimately richer.
Chris Cook can help your company get started on that path. Contact her at 541.601.0114 or chris@capiche.us to chart a course toward your brighter future.