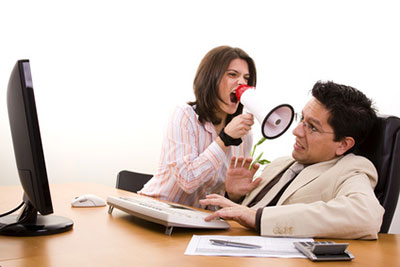 Narcissistic. Rude. Insensitive. Arrogant. Something tells me you wouldn't want to hang out with someone who matches this description, much less work for them.
The Costs to Employees
Mean bosses can wreck your work life—and your health. Why Zebras Don't Get Ulcers author Robert M. Sapolsky informs us that intermittent stressors like incivility in the workplace not only take a toll on our psychological well-being but also our physiological state.
This kind of chronic stress spikes our glucocorticoid levels, compromising our immune system and ultimately leading to a bevy of health problems ranging from ulcers to heart disease, diabetes to cancer. It also makes us hungry and fat.
Women in one decade-long study, for example, were 38% more likely to suffer a cardiovascular event when subjected to job stress.
The Costs to Business
Misery and poor health are the costs to employees. According to Christine Porath and Christine Pearson, authors of Harvard Business Review article "The Price of Incivility," the annual cost to an organization can reach the millions.
Why? When the authors polled 800 leaders and employees across 17 industries, they discovered employees responded to incivility in the workplace by:
Purposefully slacking off (48%)
Spending as little time as possible at work (47%)
Producing poorer-quality results (38%)
Taking time off due to anxiety about a specific experience (80%) or to avoid encountering an uncivil boss or colleague (63%)
Performing worse (66%)
Feeling less committed to the organization (78%)
Quitting their job (12%)
Treating customers poorly (25%)
Boorish Behavior
So what exactly are the emotionally unintelligent behaviors that trigger these responses in employees?
Christine Porath continues her exploration of incivility in The New York Times article "No Time to Be Nice at Work," identifying the following rude actions as most frequently cited in a recent survey (ordered by frequency):
Interrupting others
Judging those perceived as different
Not listening to opinions
Giving oneself the most appealing task and allotting the tough ones to others
Not communicating critical details
Lacking standard courtesies (no "please"s or "thank-you"s)
Being condescending
Taking more credit than is due
Using foul language
Belittling people
A Failure to Communicate
An Interact/Harris Poll of 1,000 US workers revealed 91% of employees felt flawed communication was at the root of poor leadership.
Lou Solomon documents these cardinal communication sins in her Harvard Business Review article "The Top Complaints from Employees About Their Leaders."
Below are the issues pinpointed by survey participants, ranked according to percentage:
Failure to recognize employee accomplishments (63%). As we explored in our series on The 5 Languages of Appreciation in the Workplace (see part 1 and part 2), bosses who fail to acknowledge employees' efforts cause them to feel unappreciated. This leads to burnout, resentment, and a decline in performance.
Failure to give clear guidance (57%). Vague or ambiguous directions often reveal the leader's own incompetence and lack of clarity about the project. How can leaders effectively guide a team when they can't even articulate their goals?
Failure to meet with subordinates (52%). Leaders who don't take the time to meet with their employees lose a crucial opportunity for connection. Employees do not trust aloof managers.
Not bothering to talk to employees (51%). Just as lack of communication is one of the predictors of a failed relationship, so is it an indicator of ineffective leadership.
Taking credit for someone else's work (47%). A boss who claims ownership of employees' ideas undermines motivation and sows mistrust.
Failure to provide constructive criticism (39%). Poor managers tend to insult an employee rather than clearly identifying issues and outlining substantive feedback.
Not learning the names of their employees (36%). Why should an employee care about a leader's objectives when that leader can't even be bothered to learn her name?
Avoiding voice-to-voice contact (34%). Managers who are unavailable to their employees via in-person or phone meetings create a further sense of disconnection.
Not getting to know employees (23%). When leaders don't take the time to chat with employees about non-work topics, employees feel as if their personal lives—and by extension, they themselves—don't matter to their boss.
Your Stories
What are some of the emotionally unintelligent behaviors you've observed in leaders? I'd love to hear about your experiences with bosses from hell. On the flip side, I'd also love to hear about your experiences with bosses from heaven. We can learn from both.
Curious How You Can Change Your Workplace?
Give me a call at 541.601.0114 or email chris@capiche.us. I'm happy to assess your situation and help you develop a plan to improve your work situation.