Interview conducted by Melissa L. Michaels, Capiche Contributor/Strategic Partner, Michaels & Michaels Creative, LLC
When Moneeka Settles isn't teaching communication courses, solving organizational puzzles, or Telemark skiing, she's busy helping Southern Oregon University's Innovation & Leadership (INL) students transform their careers and ultimately lives. Over the course of her three-decade tenure in education, Moneeka has been one of the founding forces behind new schools and new programs—a role her master's degree in organizational leadership at Columbia University, Teacher's College, prepared her to excel at. Capiche's Chris Cook has been teaching one of INL's cornerstone courses—the popular Working with Emotional Intelligence—for SOU since 2013, and together, they have a passion for developing confident, inspiring leaders with the resourcefulness, knowledge, and skills to keep their organizations thriving, despite adversity.
---
Q: Tell us about your background and how it prepared you for your current role as the Innovation & Leadership (INL) program coordinator at Southern Oregon University.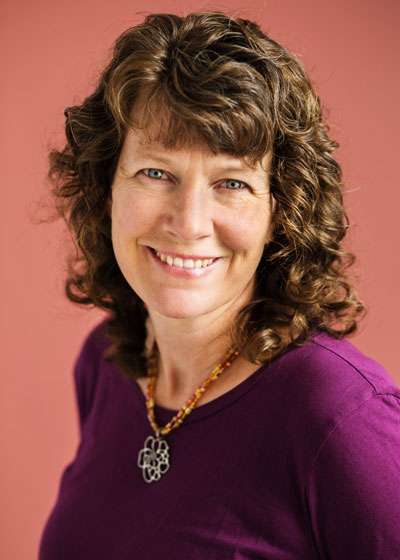 A: I love being involved in the beginnings of new programs, and I love working in educational settings. I have been an educator for almost 30 years—starting with my work as a high school teacher and then as the director of a boarding school program in Portland, and then as one of the founding administrators of The Bay School of San Francisco. When my family moved to Ashland in 2011, I was immediately interested in teaching. I first worked at Rogue Community College and then applied to be the program coordinator for the Innovation & Leadership degree program at SOU. At the time, the degree was brand new—it had just been approved by the state. The first course was scheduled, and the first 17 students were enrolled. I was thrilled to market the degree, enroll students, schedule courses, and support the development of the degree and its students. My own master's degree in organizational leadership at Columbia University, Teacher's College, was modeled in a similar fashion to the INL degree—it was cohort-based and integrated many of the same types of courses, so I knew right away I could support the mission of this degree and enthusiastically nurture it.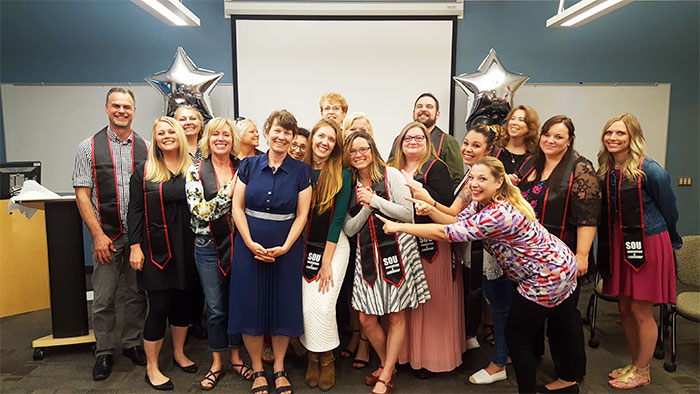 Q: What is the mission of the Innovation & Leadership Program? What was the inspiration behind creating it, and how has it evolved over the years?
A: The Innovation & Leadership degree is a bachelor's degree completion program for working professionals who are emerging and developing leaders within their organizations. The degree is designed to teach flexible high-demand skills for today's job market, including interpersonal, technology, and business management skills. The degree was inspired by the realization that employers in the Rogue Valley wanted employees who had these strong skills and that there were adult learners in the Valley who had started their degrees but hadn't found the right path to be able to complete them. The degree comprises courses selected from the Business, Communication, Emerging Media, Computer Science, and Psychology Departments to deliver a relevant and innovative degree path reflecting the realities of leadership in today's workplace. The degree started by offering courses delivered in an accelerated face-to-face format with classes in the evening to increase access for working professionals, but we have since added a fully online format to reach students outside the Rogue Valley. We have accepted seven cohorts of students since the first group was accepted, and we continue to modify course offerings and delivery options to make sure we are meeting the needs of students and employers.
Q: As an accelerated bachelor's degree program, INL draws a broad range of nontraditional students—from firefighters to bankers to real estate agents. What are a few of your favorite stories of transformation?
A: I do love the broad range of professionals our degree attracts. But, no matter the profession, the transformation I love hearing about is the increased confidence in leadership skills our students consistently share with me. A recent graduate who is a successful marketing director for a national organization said:
I really believe the innovative approach of this degree did much more than help me complete my degree. It helped me gain confidence, visibility, and respect at my company. I am now seen as an innovator and leader who backs up their thoughts/ideas with critical thought and structure. While I've always been creative and passionate at what I do, I didn't always have the right tools to explain the whys. That's where INL really helped me.
I also feel a bigger benefit of the INL degree is toward the employer as it inspires/encourages people to apply every learning in some way to their current role, and that keeps people sharp and engaged on top of driving business results.
I hear time and time again about how powerful it has been to build a network with the other students in the cohort, how many terrific ideas folks bring back to their workplaces after every class, and how much more confidence they have in themselves. So many of them said they were joining the program just to get the degree, but they left with so much more.
Q: Rogue Credit Union (RCU) is a big feeder into this program. What is it about the program that makes it such a great fit for RCU employees?
A: RCU has some key core values in common with the INL degree. Gene Pelham is an innovative leader, and the culture at Rogue is one in which they clearly support the continued growth of their employees. RCU values keeping their best and brightest employees while giving them the opportunity to expand their knowledge base without leaving the Valley. They also value cross-disciplinary skills—having employees who can think critically, work well in groups, and tackle the hard skills of business management. The INL degree teaches those skills, so it is a great match for their values. We have three great interviews featuring Gene Pelham and another with Laura Hansen on our Testimonial Videos page if anyone would like to learn more.
Q: You teach Organizational Communication at SOU. What are four tips you can share with those wishing to improve communication within their organizations?
A: I teach Organizational Communication with a particular framework in mind. That framework asks the following questions every time we build an organization or evaluate one:
How are you sharing the message to your employees that you can hear the human side of their experiences—their joys, worries, concerns, and hopes?
How are you using rituals, ceremonies, and stories to communicate the core mission and vision of your organization and to inspire engagement?
Have you evaluated the defined roles of employees and lines of communication between them to make sure both are structured to send the messages you intend to send about your organization?
Have you looked for opportunities to map the networks within and outside of your organization, and how will you communicate with those networks to anticipate everyone's level of investment?
Q: You also teach Intercultural Communication. This study identifies three approaches to intercultural communication: indigenous (seeking to understand the meaning of different cultures); cultural (adds a focus on the individual's sociocultural context); and cross-cultural (compares/contrasts cultures to identify cross-cultural validity and generalizability). For daily interactions, which do you think is the most pragmatic approach among the three—or do you recommend a combination or alternative methodology?
A: For daily interactions, I think it is key to seek to understand the meaning of different cultures and the context within which they exist. The trick is we often don't know what all the elements are of our own cultural values, nor are we very adept at recognizing the element of another culture. Thus, we tend to stumble around, clashing into contrasting values while not realizing they are deeply rooted in culture. As an example, I've just started to read Rule Makers, Rule Breakers by the cultural psychologist Michelle Gelfand. She makes the very interesting argument that there are "tight" and "loose" cultures existing internationally and in the United States, and our connection to one or the other may very well explain why we are more or less comfortable following government mask-wearing mandates and why we are more or less comfortable with creativity and innovation. We may think our reactions to these circumstances are driven by our personalities or wishes, but they are actually tied to our cultural background. Knowing what that background is and how it matches with others is key to understanding how to work well together.
Q: Chris Cook has been teaching Working with Emotional Intelligence for SOU since 2013. It is one of the most popular courses and consistently earns high ratings from students. What unique strengths does Chris bring to the subject matter, and how does developing emotional intelligence equip students to succeed in their careers and their lives?
A: First, Chris brings a tremendous amount of passion for the subject matter. She credits the course with changing her life and often gets the same reaction from her students. It is immensely helpful that Chris is highly knowledgeable about the subject and deeply committed to it. She applies her learning and offers examples from the wide range of organizations she has consulted with. Her work with the Ashland Food Co-op, Mt. Ashland, the wine industry, and Rogue Credit Union, to name a few, means she can offer a myriad of real-world examples in her academic coursework. The course content is then meaningful and relevant for the students. Learning about one's own emotional intelligence and how to strengthen it means students gain confidence in their leadership skills and people management skills.
Q: Chris is also on the Innovation & Leadership Program Advisory Board. Can you talk a bit about the board's work and Chris' contributions in that role?
A: The INL Advisory Board was developed this past year to ensure the INL degree is staying as relevant and innovative as it could be. Chris is one of seven board members who will meet with me to give feedback on our strategic plan, including the types of courses we offer to make sure we are staying in tune with organizational needs. I asked Chris and the others to join the board because they are well-respected and well-established leaders in their own organizations here in the Rogue Valley. Their wisdom and perspective are invaluable to me as we ensure this degree remains as meaningful as possible for prospective students and employers. Chris' work in marketing, strategic planning, and team building are especially valuable to me in developing the success of this degree.
Q: Your favorite endeavors include solving organizational puzzles and proposing creative solutions. Can you give an example of an organizational puzzle you've solved that was particularly gratifying?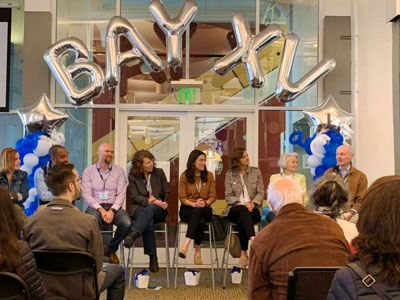 A: I have been lucky enough to have been a founding administrator to both the building of a brand-new high school and a brand-new university degree. Both of those endeavors faced multiple organizational puzzles that required creative solutions, thoughtful collaboration with others, and navigation of new waters. Both the high school and this INL degree have been successful, and since their success means students are completing the educational paths they desire, I find that particularly gratifying.
Q: Do you have any recommendations for businesses wanting to build resilience in the face of COVID and its concomitant regulations?
A: Each time I hear about the struggles organizations and businesses are facing because of COVID, I think about the message I have tried to learn from reading William Bridges, who states that it isn't the change that is hard, it is the transitions. Transitions raise so many human reactions such as loss, hope, fear, and confidence. I believe leaders have to focus on helping the people in their organizations hold those emotions well so they can transition into new endeavors. Managing those emotions well will build resilience for everyone.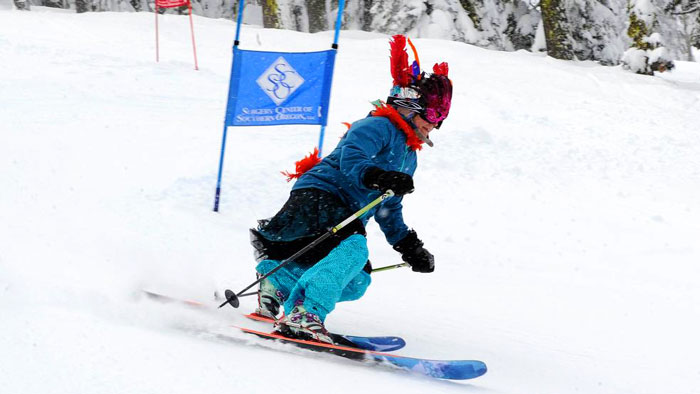 Q: If you read the interview with Hiram Towle in the previous segment of Capiche Conversations, you may have noticed a Telemark skiing theme emerging. Hiram (like you and Chris) is a fellow Telemark skier. You and Chris both participate in the Screamin' Tele Lizard Classic, an annual event that takes place at Mt. Ashland. How would you describe this experience, and who does this fundraiser benefit?
A: Telemark skiing is a sport that takes a lot of perseverance to master, but, at the same time, Telemark skiers never take themselves too seriously. I love that about the sport and the people who do it. The Screamin' Tele Lizard Classic embodies this in that everyone dresses up in very playful costumes to match the theme of the year and then does their very goofy best to Telemark ski through the race-course gates. We most definitely can't take ourselves too seriously when, after the last gate, there is the option to go over a big jump, which inevitably makes us look silly and possibly flattens us as we cross the finish line. I love the joyful, playful nature of the race and the community that shows up for the fun. And it feels good to be raising funds for the Special Olympics.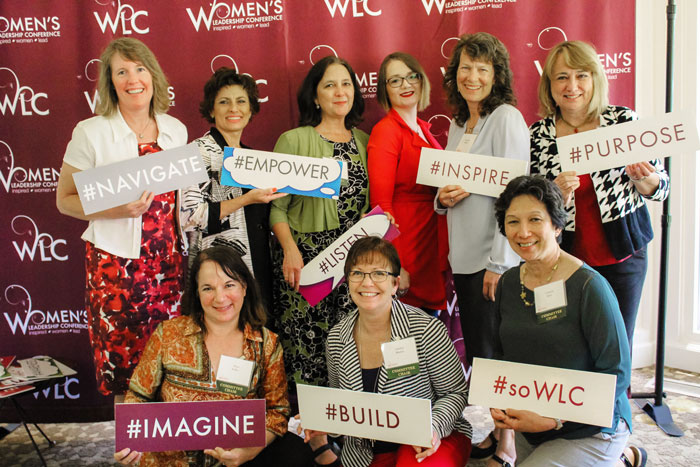 Q: Last year, you served as chair of the Women's Leadership Conference—an annual event that, like most conferences, was impacted by COVID. How did the organizers respond to the associated challenges? What was the theme in 2020, and what can we expect for 2021?
A: In the summer of 2019, the Women's Leadership Conference had agreed on the theme of Embracing Change. This was well before we new what a predictive theme that would be. It is an important theme but has become an even more relevant one since the pandemic. We have kept that theme for our upcoming 2021 conference, which will be delivered virtually on May 7, 2021. We are excited because it means the conference can reach women even further afield than our Valley, and we are being met with a strong interest in this topic and a chance to connect over it. We have two incredible keynote speakers lined up and multiple breakout session speakers who will all speak to the skills and resilience we have all faced in embracing change this past year. More details can be found here.
Q: What keeps you inspired?
A: Working with connected communities keeps me inspired. I love working with people and being linked to their growth and innovation. I also love spending time outside in the snow and on our trails, Mt. Ashland, the mountain biking network of trails, and the terrific hiking trails in our Valley—all lift my spirits each time I go there.
It isn't the change that is hard, it is the transitions. Transitions raise so many human reactions such as loss, hope, fear, and confidence. —Moneeka Settles Click To Tweet