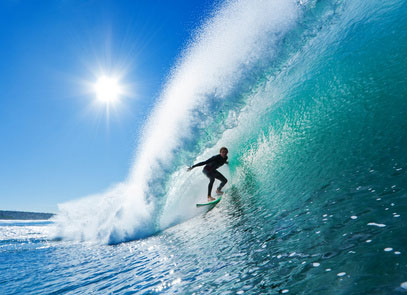 There are half a trillion reasons why every American should care about employee disengagement. They're called dollar bills, and that's how many the US economy loses annually because of the 20% of discontented employees who undermine workplace productivity, according to Gallup's 2013 State of the American Workplace report.
That counterproductive 20% is abetted by the 50% of apathetic employees who simply punch the clock and then count the minutes until they can punch out.
What about the remaining 30%? Those are the lonely few who are dedicated to doing the best job they can.
And why do you think one-fifth of the American workforce is so discontented? You guessed it. Poor leadership.
Blue Ocean Strategy
INSEAD professors of strategy and management; codirectors of the Blue Ocean Strategy Institute in France; and Blue Ocean Strategy authors W. Chan Kim and Renée Mauborgne offer some fresh ideas about how to reinvigorate the dispassionate 70%. They wrote about their findings in the May 2014 issue of Harvard Business Review.
Originally designed as a marketing model aimed at converting noncustomers into customers, Blue Ocean Strategy translates surprisingly well to the workplace. Viewing leadership from this new perspective, Kim and Mauborgne realized the fifth of disengaged employees represent the leaders' noncustomers. That's when they decided to apply their marketing strategy to building employee engagement—with stellar results.
Think about leadership as a service employees either buy or don't buy. What can turn those non-buyers into loyal customers?
3 Leadership Approaches
According to the authors' hundreds of interviews with managers and employees over the past decade, the following leadership approaches can help trigger the conversion.
1) Focus on acts and activities.
Instead of worrying about what kinds of people leaders should be, concentrate on what actions they can take to boost employee motivation and productivity. Actions are not only easier to change than personality traits, but they are also more measurable.
2) Tap into market realities.
Translated to the workplace, this means asking employees what leaders are doing wrong as well as what they could start doing to inspire employees to thrive.
3) Distribute leadership across all management levels.
Often organizations focus on executive leadership, but it's the middle and frontline managers who tend to know employees better. By distributing leadership responsibilities across the top, middle, and frontline managers, organizations can access a deep well of often-untapped talent, thus enhancing engagement across the organization.
4 Steps to Stronger Leaders and More Engaged Employees
1) Recognize your leadership reality.
You have to understand where your leadership stands before you can plot a strategy for improvement. By using analytic visuals called As-Is Leadership Canvases, organizations can assess employees' perceptions of how the top, middle, and frontline managers spend their time and energy. A cross-section of 12–15 respected managers leads this companywide conversation, with three subteams each focused on a different level of leadership. The team then compiles Leadership Profiles after a month to six weeks' worth of interviews. These profiles identify the 10–15 dominant leadership acts and activities at each level based on how frequently they were mentioned during the interview process. The As-Is canvas charts these factors on the horizontal axis of the grid, while the degree to which leaders practice them is registered on the vertical axis. Typically, 20 to 40% of the acts managers tend to practice offer little value to employees, while on the flipside, 20 to 40% of the acts employees consider valuable are underpracticed by managers.
2) Develop alternative leadership profiles.
Once the team understands what managers are doing poorly as well as what they could be doing better, they can visualize positive alternative profiles. The team looks for cold spots (time-consuming acts that yield few benefits) and hot spots (actions not currently being taken that have the potential to energize employees). A second round of interviews is conducted to create the Blue Ocean Leadership Grid featuring these four areas:
a) Eliminate wasteful acts and activities.
b) Reduce not terribly beneficial acts and activities.
c) Raise existing beneficial acts and activities.
d) Create new beneficial acts and activities.
This grid is used to draft two to four possible To-Be Leadership Profiles.
3) Pick To-Be Leadership Profiles.
These aspirational leadership profiles are then presented at a "Leadership Fair" by the subteams. Participants include top, middle, and frontline managers as well as board members. The original senior team presents the As-Is canvases, establishing the need for change. This is followed by the subteams' presentation of the To-Be profiles for each management group. The attendees vote on their favorite leadership profile, and the senior executives then ask attendees what prompted their votes.
4) Institutionalize new leadership practices.
The selected To-Be profiles are distributed to the top, middle, and frontline leaders, and meetings are held to discuss the actions that should be eliminated, reduced, raised, and created. Monthly follow-up meetings document employees' feedback on their managers' progress toward the new profiles. This routine check-in reinforces the desired changes and encourages accountability.
Fair Process
The principles of fair process—engagement, explanation, and expectation clarity—govern the four steps of Blue Ocean Leadership. Employees and managers at all levels feel ownership in the process, thus overcoming resistance to change and creating a sense of buy-in. Crucially, fair process fosters trust across the organization.
Get Started
Are you ready to try out Blue Ocean Leadership at your organization? Contact me at 541-601-0114 or chris@capiche.us to start the conversation today.
See the Blue Ocean Leadership website for more details.