At the end of each year, many publications "celebrate" the worst marketing campaigns of the year. Less than 40 days into the new year, and there was already a regrettable fail that hit my mailbox. Earlier this month, I published this to my Capiche.wine blog. While I was at the Oregon Wine Symposium last week, several of my readers remarked that they'd been appalled by this example of a marketing fail—so much so that I decided to share the story on this site as well. Here ya go!
The Unified Wine & Grape Symposium has moved from downtown Sacramento to Cal Expo—the state's fairgrounds. This was a great decision as it centralizes the entire three-day event. "It's Going to Be BiG" was a good marketing theme. The location change will give 14,000 wine industry members the opportunity to network and visit the 700+ industry suppliers without having to travel throughout the downtown.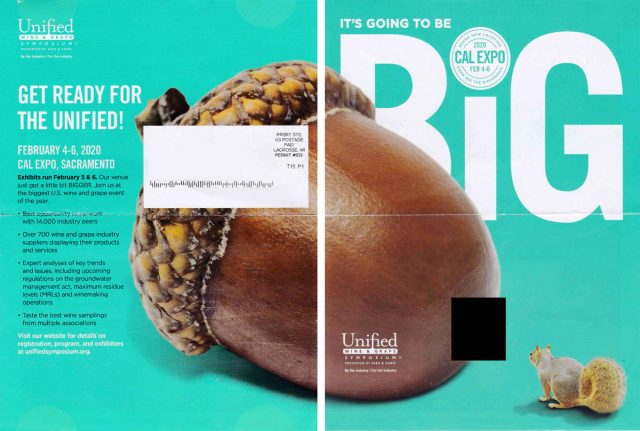 "It's Going to Be BiG" is a PR nightmare! Because of the way the circular is folded, there is the appearance of a massive breast, complete with an areola, with the tiniest squirrel positioned in front of what looks like a nipple. The acorn is about 16 times larger than the squirrel, hence the "BiG"—except conference organizers (and worse yet, their graphic design team) didn't look at the circular in its folded format, or so they say.
We called both sponsors of the event—the American Society for Enology and Viticulture (ASEV) and the California Association of Winegrape Growers (CAWG). One organization was understanding and concerned. The other was more defensive.
Ideally, your organization and the marketing team and graphic artist will look at every ad as it will be delivered. We were told this didn't occur. Seasoned marketing professionals know to do this. We would like to believe there was never the intent to produce an offensive ad, but this was a colossal fail. And the defensive response from one organizer compounded the problem.
Five ways to avoid a colossal clunker:
Consider your audience—will the messaging resonate with them (or, in this case, disgust them)?
Be sensitive to cultural references and stereotypes (e.g., H&M).
Review timing so as not to cause confusion with unrelated activities that may be added with your campaign (e.g., Milwaukee Bucks).
Involve others in your organization in the review process—different perspectives can reveal problems before it's too late.
Test content in all formats—online mobile, tablet, and desktop; printed flyers (folded and not), print ads, and so on.
How to recover:
So, what do you do if you have a colossal failure? Get out in front of it. Pull it off the web, out of the publications, off the walls. Issue a public apology and move on with a more appropriate campaign. Ironically, this "bad" attention gives your organization a chance to self-correct and look "good" in the public's eye. And they'll pay more attention to the new campaign as a result. But don't use this as a PR tactic—it's better to have a strong campaign to begin with, and that should be every marketer's goal.
What do you do if you have a colossal failure? Get out in front of it.
Click To Tweet