A time traveler from 2019 would scarcely recognize the world today, and the workplace is no exception. Nearly three years of pandemic protocols have transformed our daily experiences, introducing novel challenges for managers that will only continue to escalate in 2023.
The hybrid work environment has become the dominant model as many employees transitioned to a combination of remote work from home and on-site activities, and that trend is expected to continue into the future.
A September 2022 Zippia article reported that 74 percent of US companies were either practicing or planning to start using a permanent hybrid workplace.
According to Pew Research, within the first year of the pandemic alone, the percentage of employees working at home jumped from 20 to 71 percent—and 54 percent said they would want to continue working from home permanently.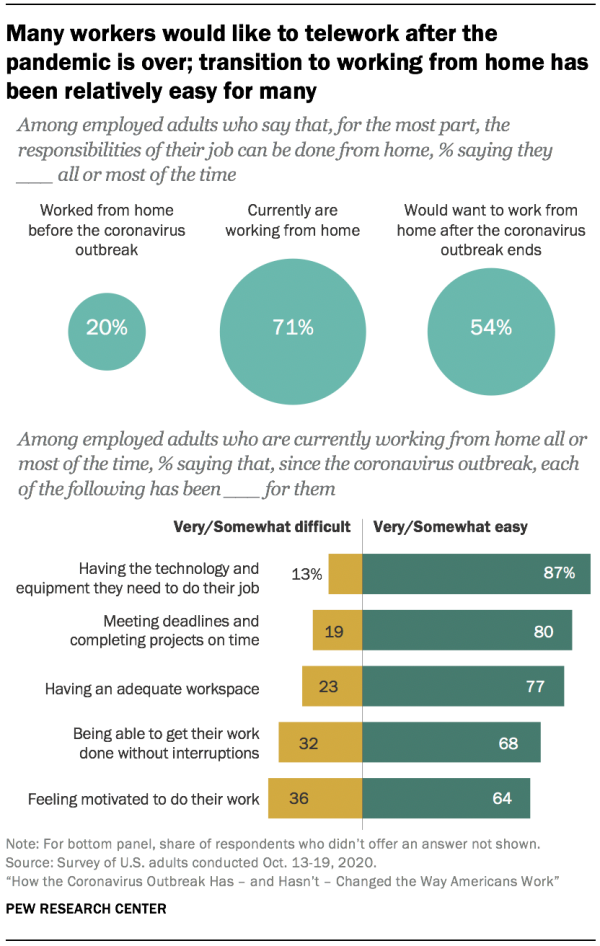 While the transition to working at home has been easy for most, a third report feeling a lack of motivation, with younger workers experiencing impediments to productivity.
Fifty percent of parents—30 percent more than nonparents—find working without interruptions challenging, and four in ten working mothers admit achieving life-work balance is even more difficult than prior to working at home.
By November 2021, 63 percent of high-growth companies had implemented hybrid frameworks, with 83 percent of employers saying the approach has been productive and the same percentage of employees saying they preferred it in an Accenture survey of 9,000 workers.
Work relationships and cohesiveness can suffer, however, with 24 percent of remote employees saying they feel disconnected from their colleagues and employers' greatest concern being maintaining culture.
Surprisingly, younger generations have the strongest preference for face-to-face interactions—74 percent of Gen Z respondents versus 66 percent of Gen Xers and 68 percent of Baby Boomers according to the Accenture survey.
While the hybrid structure has its pluses and minuses, there is little doubt it is here to stay, and managers will need to figure out how to contend with issues like burnout and overwork.
A recent trend survey of 700 leaders and organizational development professionals conducted by The Ken Blanchard Companies® uncovered their top three concerns for 2023:
Hiring
Retention
Employee experience
The survey, Enhancing the Employee Experience in a Hybrid World, revealed "76% of respondents believe hiring will be more difficult in 2023" and "79% of respondents report that employee retention will be even more of a challenge."
Employee experience is viewed as key to maintaining and strengthening engagement, particularly in light of the variables introduced by the hybrid model.
Longtime readers of the Capiche blog will know hiring, retention, employee experience, and engagement are topics we have covered extensively over the years, and our services fostering happiness at work and cultivating a productive, inspiring culture are key to surmounting these and other challenges anticipated for 2023.
To counteract the feelings of disconnection and dissolving culture associated with working at home, why not bring everyone together for some fun, team-building organizational development exercises as well as learning and development opportunities?
The Blanchard survey also illuminated the importance of "setting clear performance expectations," which can help boost the productivity and focus of remote workers.
Acknowledging the value of development initiatives for addressing their top concerns, survey respondents favored 10–30-percent budget increases in this area.
Survey participants identified the following skills as key to success over the next three to five years:
engaging and developing talent
leading and supporting change
establishing goals and priorities
building employee resilience
creating a sense of inclusion and belonging
Fortunately, Capiche can help with fulfilling all of these goals and more! Complete our Contact form, email chris@capiche.us, or call 541.601.0114 to find out how we can help you position your organization for success over the next decade.
If you would like to learn more about Blanchard's 2023 HR/L&D Trends Survey, sign up for their free webinar, 2023 L&D Survey: Enhancing the Employee Experience in a Hybrid World, scheduled for November 16, 2022. The webinar will cover:
top challenges L&D professionals say they're facing heading into the new year
key focus areas for creating an engaging employee experience
training modalities L&D professionals expect to use most often
top skills leaders need for managing a high expectation workforce
As 2022 draws to a close, now is the time to begin proactively planning for the challenges ahead. Don't wait for the new year to start on your resolutions—reach out to Capiche to get started today!