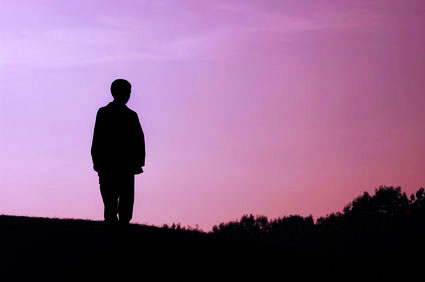 Taking the Negative Approach to Happiness
Here we pick up from our last article on practicing the negative approach to happiness. To recap, Part 1 offered the following tips on finding happiness through the back door:
Be Vulnerable
Humiliate Yourself
Imagine the Worst-Case Scenario
Don't Think Positively
Give up Hope
Below are the next five steps on your backwards path toward happiness:
1) Realize It's Okay to Not Be Okay
Pretending everything is copacetic when you're feeling otherwise is another form of counterproductive suppression. Therapeutic modalities such as radical acceptance therapy teach us to soften ourselves to pain, grief and anxiety. Resisting these feelings causes our bodies to tense and our stress levels to spike, while letting down our guard and allowing the pain to wash over us helps us heal our wounds. Author of Radical Acceptance: Embracing Your Life With the Heart of a Buddha, Tara Brach defines radical acceptance as "the willingness to experience ourselves and our life as it is." Accepting reality and facing it head-on will deepen your authenticity and ultimately happiness.
2) Embrace Failure (or, as I like to frame it: fail forward)
Learning to embrace our failures with levity, humor and ingenuity helps us leap over speed bumps that could easily become obstacles. When we feel shame for our shortcomings, when we lament failing to meet a goal, or when we succumb to feelings of defeat, we lose the precious opportunity to glean wisdom from our failures. By accepting and even celebrating our failures—as in the invaluable Museum of Failed Products created by retired marketer Robert McMath—we can stumble upon the kind of happy accidents that lead to scientific breakthroughs and galvanizing creative sparks. Robert McMath and Thom Forbes write about this phenomenon in What Were They Thinking? Marketing Lessons You Can Learn from Products That Flopped.
3) Let Go
The control freaks among us will have difficulty with this lesson, but once we recognize that it is beyond our power to control the universe, our anxiety will drift away like a leaf on a stream. Attempting to make ourselves secure escalates our feelings of insecurity. Countercultural philosopher Alan Watts calls this the law of reverse effort or the backwards law: trying to make everything right often causes things to go wrong. Watts writes, "When you try to stay on the surface of the water, you sink; but when you try to sink, you float." Security is an illusion. It is only when we acknowledge that insecurity is an inevitable aspect of life that we cease to fear it.
4) Practice Calm Indifference
Stoicism, Buddhism and mindfulness meditation all call us to examine our circumstances with calm indifference. According to the Stoics, it is not certain people, events or situations that cause suffering and distress but rather our beliefs about them. When we judge a person irritating, an event tragic or a situation stressful, we make ourselves angry, sad or anxious. If we suspend judgment, we can respond more objectively to the situation. Guided by reason (Stoicism), compassionate detachment (Buddhism) and intentional focusing of our attention (mindfulness meditation), we can gain an inner tranquility amidst life's vicissitudes. Philosopher and scholar of Stoicism William Irvine describes this inner tranquility as a "state of mind … marked by the absence of negative emotions, such as grief, anger and anxiety, and the presence of positive emotions, such as joy."
5) Contemplate Death
We spend 99.99% of our waking lives trying to ignore it. We tuck the thought of it away into our subconscious, pushing it down every time it bulges through the carpet of our consciousness. We practice systematic denial of it until the moment when it is no longer possible to deny: one day, we will die. As we know from our initial post on The Antidote, suppressing our fear of death only makes it more prevalent. So how are we to cope with the terrifying inevitability of death? Meditate on it. From the medieval tradition of memento mori to Mexico's Day of the Dead, cultures that reflect on death—both their own and that of their loved ones—feel less fear and anxiety around the subject. If you live your life with a tender awareness that it is fleeting, you will make decisions with greater wisdom and purpose. You will have fewer regrets at the end, and such a life will have been a richer, more fulfilling and ultimately happier one.